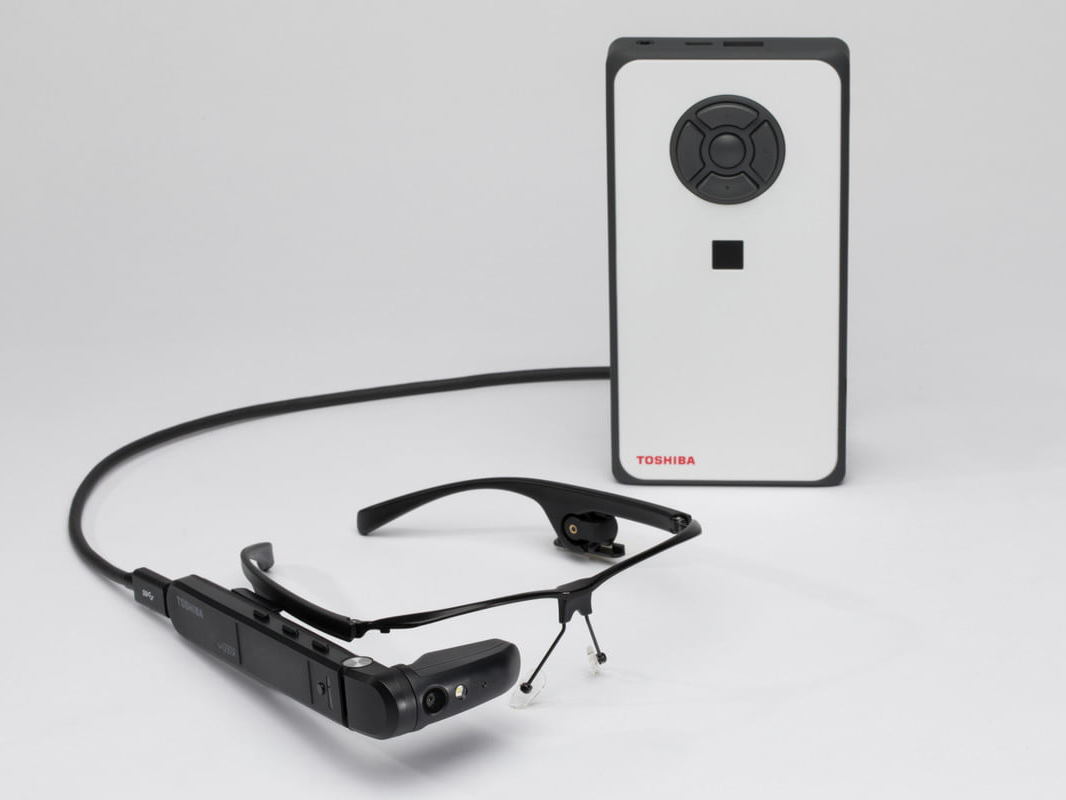 Toshiba launches dynaEdge AR smart glasses
Toshiba's new dynaEdge AR Smart Glasses, is the first completely wearable Augmented Reality (AR) solution to combine the power of a Windows 10 Pro PC with the robust feature set of industrial-grade smart glasses.
It features an integrated micro display that provides a viewing experience equivalent to a 4.1-inch display seen at 14 inches. The HMD has an integrated touchpad, GPS, three-axis accelerometer with a gyroscope for head tracking, 5MP POV camera, speaker and dual noise-canceling microphones that are ideal for voice communications, and a 640 x 360, quarter-inch-sized display.
Measuring 6.5 x 3.3 x 0.8 inches thin and weighing less than 11 ounces, Toshiba's wearable dynaEdge DE-100 Mobile Mini PC features a five-button, on-device navigation system to enable up/down, left/right toggles as well as an enter button. By combining that with the swipe and tap functionality afforded by the integrated touch pad on the dynaEdge AR100 Head Mounted Display, users can easily navigate, find, open and operate applications seamlessly without needing a traditional keyboard and mouse.
Thanks to an ingenious clip, it can be worn on either the left or right side of eyeglasses, protective eyewear, or anything else you'd strap over your face. Toshiba also included a finger print sensor for quick and secure access to the dynaEdge AR Smart Glasses. To support around the clock operations, Toshiba engineered the dynaEdge DE-100 with a removable battery and offers an optional external battery charger that charges four batteries simultaneously.
Toshiba developed its dynaEdge AR Smart Glasses solutions to meet the performance demands of enterprise workplaces through the adoption of 6thGeneration Intel® Core™ M Processors, Intel® HD Graphics and Intel® Dual Band Wireless-AC 8260 802.11ac Wi-Fi®. These technologies differentiate the Toshiba AR solution regarding performance, security and connectivity from the competition.
"We are excited to be part of Toshiba's initial software offering," said Soulaiman Itani, CEO and co-founder of Atheer. "We believe the combination of Atheer AiR Enterprise and the dynaEdge AR Smart Glasses provides a solution that will help enterprises significantly enhance the productivity and effectiveness of their workforces."
The dynaEdge AR Smart Glasses and a complete line of accessories will be available in the second quarter of 2018.