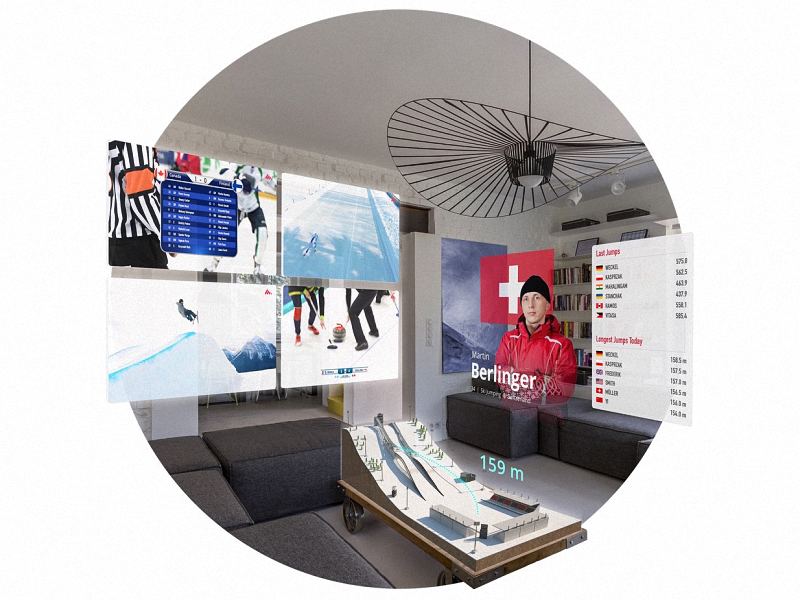 Within two to five years: Live streaming in a holographic form
In an interview with the The Verge, Magic Leap founder Rony Abovitz reveals details of how he envisions the announced cooperation with the US Basketball League NBA: "You can stream over the top and to the screens, the virtual screens — you can do that now," he said. "We're looking at how do you derive the information to move the volumetric stuff from that. And then, how do you do volumetric live-streaming as well … if you time where processing power is going, particularly backends, you're single-digit years away from that happening."
According to Abovitz, in order to transfer space, a large number of small, very high-resolution cameras are required, which record the events from many different angles. The videos of the individual cameras are then sent to a central computer with powerful processors where they are converted into room videos and further transmitted to compatible glasses. Abovitz expects that the necessary computing power will be available within a few years.
However, according to Abovitz, it will take another ten years until this streaming procedure becomes suitable for the mass market and a new transmission standard.
The preview starts via eye contact
Abovitz also shared more about how apps on Magic Leap's goggles and its proprietary operating system will work, claiming that the number of possible interactions on the developer version of the goggles is "insanely large." The system is capable of interpreting commands from someone's head, eyes, voice, gestures, and a physical control, he said, which developers can currently customize. "Because it's the creator edition [of the goggles], if you want to blink twice and use your voice, we're not stopping you."
App icons will also appear in volumetric format on the app launcher, and by just looking at the icon, a preview of the app will be revealed, whether it's "an NBA experience, a Mario Kart, or whatever it is you want to do," he said.