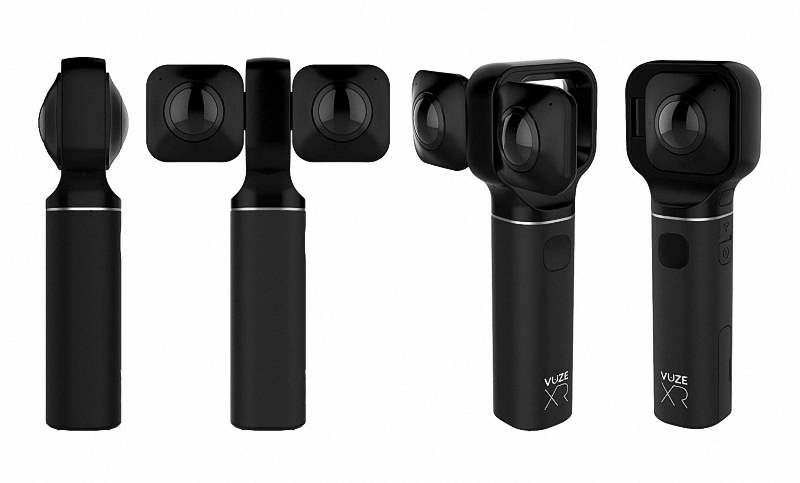 Vuze XR Camera: Dual Experiences – 5.7K 360° or VR180 formats
HumanEyes Technology has announced the Vuze XR camera, a product the company describes as a 'dual camera' since it can be used for two distinctly different applications. With the touch of a button, the Vuze XR transforms from a 360° camera to a VR180 camera, enabling content creators to spontaneously tell any story, from every angle. Additionally, the camera will support live streaming to social media, which may make it an attractive choice for activities such as travel where you want to keep things light but retain the flexibility to share your adventure in different ways.
Founded in 2000, Israel-based Humaneyes says it holds more than 70 patents across the 3D spectrum. In 2016, the company debuted the $800 Vuze VR camera, though it didn't start shipping units until last year. The camera was the result of years of R&D at the Hebrew University in Jerusalem. Back in January, Humaneyes launched the $1,200 Vuze+ VR camera with a bunch of upgrades, targeting the prosumer market.
At Vidcon last year, Google unveiled a new video format, called VR180, that is designed to make VR more accessible and affordable. It was created in conjunction with Google's Daydream VR team and promises immersive 3D video that only requires creators to capture 180°. This means that they just have to shoot what's in front of them, rather than getting the full 360° landscape.
With the new VUZE XR, creators will be able to capture and share engaging content, life's adventures and memorable moments in stunning 360° (2D) or stereoscopic VR180 (3D), all from one innovative device. The Vuze XR Camera is designed to capture, create and share both high-resolution photos and full motion video, in either 5.7K 360° or VR180 formats.
Although the exact pricing and availability have not yet been revealed, the Vuze XR camera is expected to ship in the fourth quarter of this year, and it will be "in the range of $400", which could make it one of the most affordable 5.7K 360° cameras on the market. Additional camera details, specifications and pricing will be available in the coming months.